Backlit led with individual motor control
Backlit led with individual motor control
Backlit led with individual motor control
oscillation, spiral rotational & soft triplanar
oscillation, spiral rotational & soft triplanar
oscillation, spiral rotational & soft triplanar
11mm oscillation/2mm spiral rotational/13mm soft triplanar
11mm oscillation/2mm spiral rotational/13mm soft triplanar
11mm oscillation/2mm spiral rotational/13mm soft triplanar
2 DC
2 DC low emf / hi output
2 DC low emf / hi output
600 watts / 300 watts
600 watts / 300 watts
800 watts / 400 watts
black mat
black mat
bllue anti-shock mat
27" W x 20" D
27" W x 20" D
27" W x 20" D
Warm up / Cool Down Programs
2 air cooled
2 fan cooled/double soldered type
2 fan cooled/double soldered type
soft upper body + hard straps
soft upper body + hard straps
soft upper body + hard straps
2 vertical
2 vertical closed cell foam
2 vertical closed cell foam
closed cell foam
closed cell foam
closed cell foam
168 lbs.
168 lbs.
168 lbs.
54 H x 27 W x 29.5 D
54 H x 27 W x 29.5 D
54 H x 27 W x 29.5 D
128 lbs.
128 lbs.
128 lbs.
300 lbs.
350 lbs.
350 lbs.
Non-marking rubber
Non-marking rubber
Non-marking rubber
120 Volts AC 60Hz
120 Volts AC 60Hz
120 Volts AC 60Hz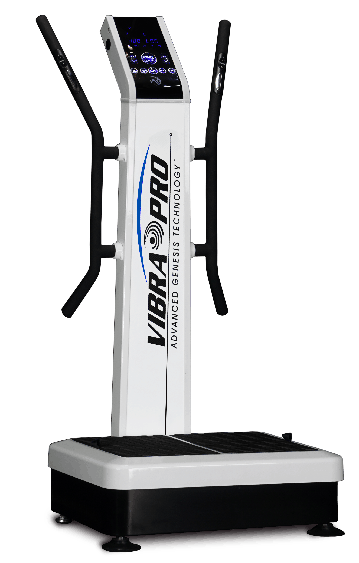 Genesis Sport X3
$2395
Warm up / Cool Down Programs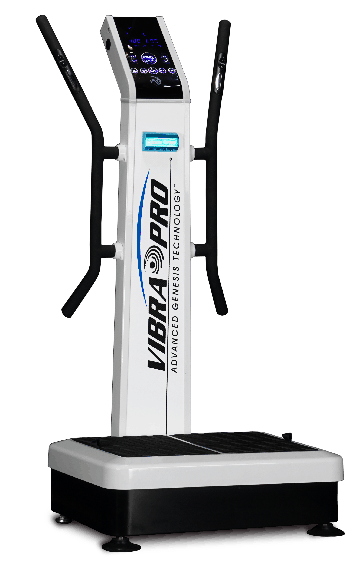 Genesis Sport X5
Warm up / Cool Down Programs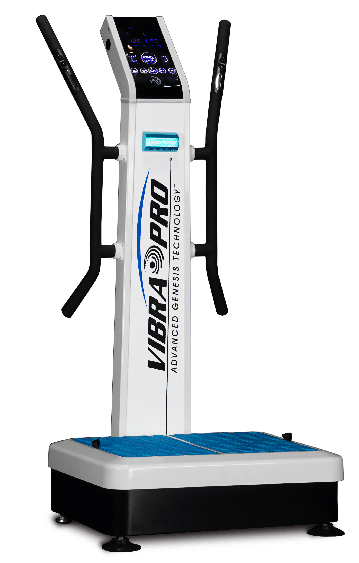 Genesis Sport X7
$2895
Warm up / Cool Down Programs
About Genesis Sport
How to choose right machine
The Genesis Sport line is a smaller version of our most popular Genesis Kinetic series of whole body vibration machines. The Genesis Sport models are dual motor, 3 motion type vibration machines that can be used for a variety of purposes, including helping with weight loss, muscle toning, and endurance building. Designed to withstand the rigors of daily vibration workouts and vibration therapy use, the Sport series is popular in smaller health clinics such as physical therapy and chiropractic offices and is also popular for home use. The Genesis Sport series of full body vibration machines are built to be durable and tough from the same premium internal electronics and motors to the outer control panel and casing as the top of the line Kinetic Series. There are several differences between the three versions of the Vibra Pro Genesis Sport machine. Below is a description of the main differences between the X3, X5, and X7 vibration therapy machines.
The X3 is our entry-level Genesis Sport model has traditional button controls, black rubber mat, and 600/300 watt motors. The X3 version has 3 built-in programs and manual mode for those users who want to personally control the speeds and motions of the vibration machine. There is no expandable memory slot on the X3. The X3 Sport whole body vibration machine is good for a person looking for a solidly built machine with basic functions for the home user.
The X5 is our mid-range Genesis Sport Model. The X5 Sport vibration machine has traditional button controls, black rubber mat, and larger 600/300 watt motors. The X5 whole body vibration machine has bonus features such as an expandable memory slot to accept trainer cards and a built-in vibration dampening system to filter out non-harmonic vibrations. The X5 Sport vibration machine is great for a person looking for a mid-size vibration machine, with stronger motors, higher load capacity, and with expandable memory which is great for customized workouts.
The X7 is the strongest, most durable version of the Genesis Sport series of vibration machines. The Sport X7 is built tough to handle multiple mid-size users and is great for the entire family or for clinical use. The Sport X7 has the traditional button controls, strong 800/400 watt motors, and a blue anti-shock mat. The X7 vibration therapy machine is versatile because it has multiple built-in programs and has an expandable memory slot to provide limitless training possibilities. Other features include the vibration dampening system, 2 sets of workout straps, and air-cooled electronics. The X7 Sport vibration machine is our top of the line Sport model that is most suitable for clients or those looking for high-quality mid-size vibration machine for home or clinical use.
Our Motions
Oscillation motion has been around for a very long time on many vibration exercise machines. This a vertical see-saw motion whereby one side of the platform tips upwards, while the other side tips downwards. This movement is typical for vibration machines with a high degree of amplitude, meaning that the platform moves about 11 mm with each stroke, and they move relatively slowly. This particular motion may be effective for weight loss and improving lymphatic drainage.
Spiral Rotational motion is a relatively new motion style for vibration platform machines. It is considered a complex motion system since there are multiple directions of motion involved. Unlike oscillation motion, spiral rotational moves very rapidly, but with very little amplitude (only moves about 2 mm per cycle). The vibration platform moves in a circular pattern, with no actual rotation forward, then to the right, then back, then to the left and then the same pattern continues. This particular motion may be very effective for increasing circulation, muscle strength, and rehabilitation. This is also a very safe type of motion for people with concerns about their knee joints or other soft tissue.
Soft Triplanar is a combination of both Oscillation and Spiral Rotation motions. Soft Triplanar, has only a left/right and front/back motion with 2 mm of amplitude and moving at high speed. Then oscillation motion is added at low speed and high amplitude to generate the vertical movement. Since the oscillation motion is operated by an independent motor the user can adjust the left/right speed separately from the vertical motion of the vibration machine. It is considered a complex movement since the body must oppose the movements in different planes to one another. This Soft Triplanar motion is effective for multiple purposes since there are several motions occurring at the same time, with their own different characteristics. Traditionally used for strength gain while also losing weight at the same time, this motion may also help with bone density concerns.
Bonus common features on all Sport models
Air Cooled Electronics: are air cooled by fan circulation and heat sinks for optimal performance of the vibrating workout machine.
Vibration Dampening System: The Dampener is designed to meet the exact resonating frequency of the column and helps counter non-harmonic vibrations for the user.
Roller Wheels: fitted to all our vibration exercise machines so you can move them easily as you need, simply tip back and away you go.
Closed Cell Foam Handles: they don't absorb sweat or moisture so no mold or mildew build up and thus no need for harsh cleaners.
2 Different Strap styles: soft resistance straps and static straps to maximize available whole body vibration exercises.
DVD and Poster: with 25 different exercises and specialized workout positions to get you started on your vibration exercise machine.